The barrier island of Longboat Key is a picture-perfect paradise facing the vast expanse of the Gulf of Mexico. Divided between the two counties of Manatee and Sarasota, this 11-mile-long stretch of land is blessed with scenic sunsets, a calm and quiet atmosphere, miles of beachfront, and pleasantly warm weather.
Situated along Florida's gorgeous western shoreline, Longboat Key has long been prized for its ideal waterfront living conditions. The Timucuan and Caloosa Indians were some of the very first inhabitants in the area thousands of years ago. Since the arrival of new settlers, as well as the relatively recent developments in the 1960s to 1970s, Longboat Key has evolved into an affluent town known for its pristine and natural beauty, cultural attractions, and luxury shopping destinations.
Whether you're planning a move to Longboat Key or expanding your real estate portfolio, a condo purchase on the island is a savvy investment worth pursuing. Considering the high property appreciation and the fact that the island is a perennial tourist destination, buying a Longboat Key home will pay significant dividends in the long run. If you're actively searching for condos for sale in this one-of-a-kind location, here are a few things to keep in mind.
Table of Content
Location and Climate
Longboat Key is flanked by Sarasota Bay to the east (the city of Sarasota is just 15 minutes away) and the Gulf of Mexico to the west. You can travel by car via the island's only highway, Gulf of Mexico Drive, which runs the entire length of Longboat Key and branches off into smaller roads.
Endowed with a tropical climate, the island receives on average over 250 days of sunshine and over 100 days of precipitation per year. Though it never snows on Longboat Key, some of the least comfortable months of the year are July and August, when the island records some of its hottest temperatures. For most of the year though, especially between November and April, the weather is fabulous.
Overview of the real estate market
The housing stock on Longboat Key is primarily composed of luxury condos, single-family homes, and well-adorned villas. The median sales price is currently around $1.2 million, but many properties often fetch higher prices.
Longboat Key condos go for sale for anywhere between $450 thousand and $13 million. With the exception of St. Regis, there are very few opportunities for new construction condos since almost all land on Longboat Key has already been developed. With some distance from city centers, Longboat Key usually attracts highly discerning buyers — those who value privacy, seclusion, and easy access to five-star amenities. Desirable homes throughout the island usually come with these sought-after features:
Access to Longboat Key Beach
Private boat slip and exclusive waterfront access
Bright rooms with floor-to-ceiling windows
Access to golf courses and tennis courts
Swimming pool and spa
A preview of a few of the best condo communities on Longboat Key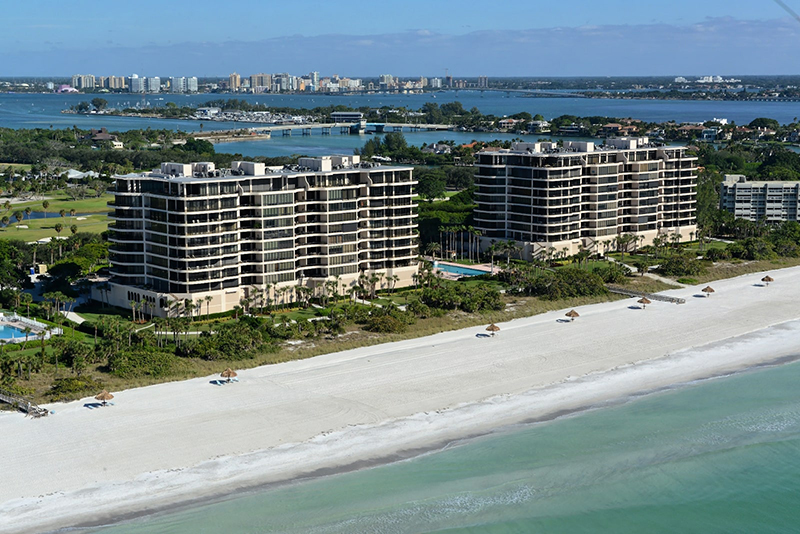 L'Ambiance (415 & 435 L Ambiance Dr, Longboat Key, FL)
L'Ambiance is a 134-residence condominium development at the southern tip of the island. With a contemporary coastal design, the condo boasts breathtaking views of the Gulf. Condo units come with gorgeous interiors and 700 to nearly 5,200 SF of outdoor terrace space. Apart from generous residences, there are plentiful amenities where residents can stretch out and get active. There's a beach-facing Olympic-sized swimming pool, tennis courts, and the Longboat Key Club's Islandside golf links all within convenient walking distance.
En Provence (2131-2161 Gulf of Mexico Dr, Longboat Key, FL)
Sitting on nearly six acres of private beachfront, En Provence is one of the most sought-after condo communities on Longboat Key. Taking inspiration from villas along the French Mediterranean coastline, En Provence was designed with opulence in mind. Condo residences are exceedingly spacious, with some of the most generous having 6,000 square feet of living space and two-car garages. Residents enjoy private beach access and an incredible south Longboat location.
Tangerine Bay (340-380 Gulf of Mexico Dr, Longboat Key, FL)
Situated at an extremely desirable location in the southern portion of Longboat Key, Tangerine Bay is an excellent property to consider. It's flanked by Sarasota Bay, the 24-acre Quick Point Club's nature preserve, the 18-hole Longboat Key Club's Islandside golf links, and the Drydock to the north. Tangerine Bay has a limited selection of just 90 residences — each with its own private 2 car garage. There's an array of amenities on offer, including a private lagoon, 25-meter swimming pool with waterfalls, tennis and pickleball courts, and a fitness center. In addition, Residents have exclusive access to the amenities of the Bay Isles Beach Club on Longboat Key Beach.
Aria (2251 Gulf of Mexico Dr, Longboat Key, FL)
Aria is one of the more recent condo developments on the island with a stunning beachfront facing the Gulf of Mexico. The land where this condo development now sits was previously part of Hermann Kohl's 1930s estate. Kohl's historic Villa am Meer has since been converted into Aria's impressive clubhouse, which is unlike any other and brimming with charm and character. Each residence has luxurious interior finishes, a spacious floor plan, and state-of-the-art appliances. Residences have oversized terraces, with plenty of space for outdoor dining and entertainment.
The Water Club (1241 & 1281 Gulf of Mexico Dr, Longboat Key, FL)
Save for its 11 floors, The Water Club is hidden behind a thick of trees along Gulf of Mexico Drive. Upon entering the community, residents and visitors are greeted by the Royal palm-lined driveway and Mediterranean-style clubhouse — which is currently the largest on the Key. The state-of-the-art fitness center, Olympic-sized swimming pool, private massage areas, and tennis courts are just a few of the amenities in this full concierge property. Water Club's 172 residences feature contemporary interiors and spacious floor plans. Condo residences here have some of the best views of the white-sand beachfront and the Gulf.
Sanctuary (535-585 Sanctuary Dr, Longboat Key)
Sanctuary provides a lifestyle that perfectly balances bliss and relaxation, convenience and luxury, community and seclusion. Located on the south end of Longboat Key behind the gates of the Longboat Key Club, Sanctuary has 181 residences ranging from approximately 1700 SF to 3800 SF. View options include a mix of Longboat Key Beach, Sarasota Bay, Islandside Golf Course, and downtown Sarasota's city skyline. Residents are known to join the Longboat Key Club for convenient access to additional amenities close by including golf, tennis, marina, and spa services.
Short-term rentals must comply with local rules
If you're looking for a condo for sale on Longboat Key to rent out, you should familiarize yourself with recently approved Longboat Key guidelines concerning short-term rentals in addition to the specific condo development association rules.
A range of attractions throughout Longboat Key
There's never a dull moment when you're in an island paradise like Longboat Key. Whether you're a beach lover, avid shopper, golfing enthusiast, or a culture aficionado, there's plenty to do throughout the island and nearby. Plus, if you're investing in a rental property, these diverse attractions and activities will be a big selling point for guests. Here's what's in store:
Beaches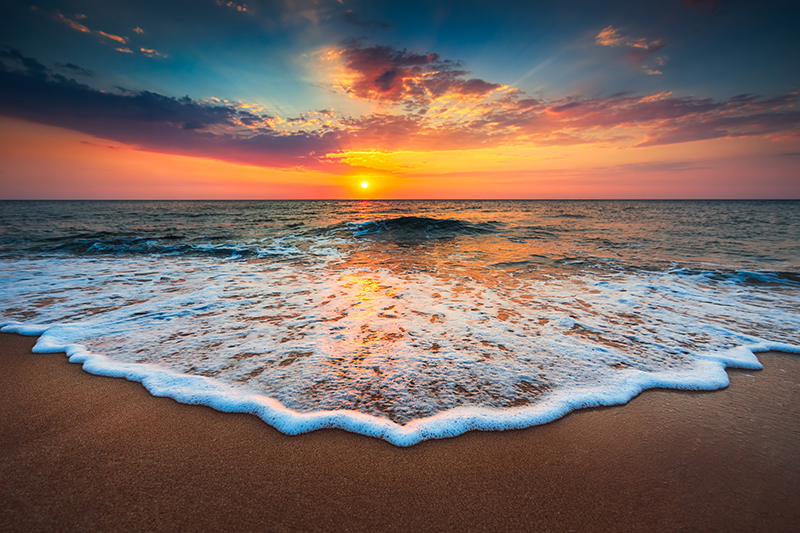 Sand Cay Beach Resort's stunning beachfront, and serene atmosphere make it a premier boutique resort. The units are spacious and the amenities include places to BBQ, tennis and pickleball courts, a heated pool, shuffleboard, and sandy white beach.
Resort at Longboat Key Club is as luxurious as resorts come. Everything here is designed to provide a memorable vacation. There are world-class golf courses, easy access to a marina, a spa and wellness center second to none, truly exquisite dining options, tennis gardens, and much more.
Zota Beach Resort is a family-friendly contemporary-style paradise replete with five-star amenities. Calm and classy, this is a perfect place to unwind.
Shopping destinations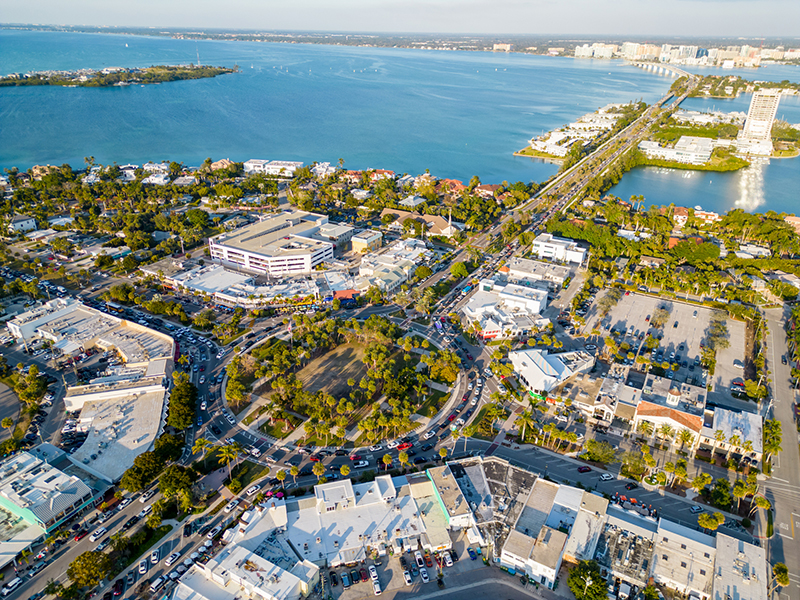 Located just over the New Pass Bridge, St. Armands Circle at 300 Madison Drive starts the area's premier shopping destination. Tree-lined and filled with a variety of luxury shops and excellent restaurants, the Circle is a favorite among residents and visitors alike.
The Centre Shops at 5370 Gulf of Mexico Drive has a number of local shops and boutiques, featuring a resort clothing store, antique shop, and flower store.
The Shoppes of Bay Isles is a sizable retail hub offering a diverse array of shops, restaurants, gourmet groceries, and a beauty salon.
Restaurants
Shore Longboat Key offers top-tier seafood, waterfront ambiance, and some of the finest cocktails on the island.
Dry Dock Waterfront Grill is another outdoor dining favorite to visit. The restaurant is known for its locally sourced ingredients and scenic seaside location.
Maison Blanche is your go-to destination for delectable French cuisine and an impressive selection of wines.
Cultural attractions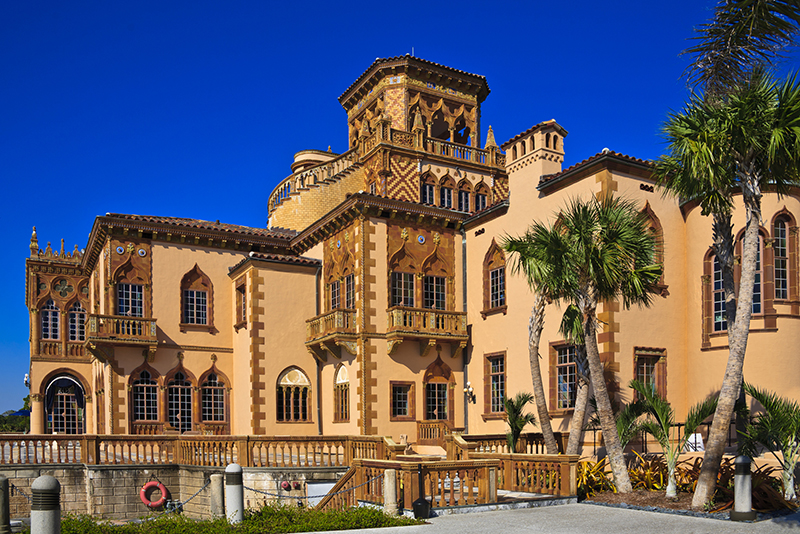 Since 1939, Sarasota Jungle Gardens has delighted countless families and visitors from all over the world with its menagerie of native and exotic animals (about 200 species) and well-maintained 10-acre jungle park. Here you'll discover an array of reptiles, small mammals, and birds (including Florida's iconic pink flamingo). This long-standing zoo and botanical garden was the creation of David Breed Lindsay and Pearson Conrad who hatched a plan to transform 10 acres of pristine subtropical jungle into an eye-catching attraction in the early 1930s.
The MOTE Marine Laboratory & Aquarium is where you'll discover marine life native to the area, including manatees, dolphins, sharks, sea turtles, and coral reefs. This research and educational center also has a number of exhibits showcasing Florida's unique bay and watershed environments.
The Ringling, officially known as The John and Mable Ringling Museum of Art, is a vast Renaissance-inspired museum in Sarasota. Housing an array of artifacts and artworks from the ancient era to Renaissance Europe and an extensive collection of circus artifacts, the museum was founded by renowned circus magnate, John Ringling, and his wife Mable. The Ringlings once lived in this vast estate, where you can still find their Venetian Gothic-style home, the Ca' d'Zan.
The Sarasota Art Museum contains an extensive collection of contemporary works. Since 2019, it has showcased stellar works from 20th and 21st-century artists. In addition to the 15,000-square-foot exhibition space, there's also an auditorium, bistro, shop, and numerous facilities where you can discuss and appreciate art. There are no permanent exhibits, making each visit special.
The Marie Selby Botanical Gardens features various species of native Florida plants, all housed within 45 acres of bayfront sanctuary. There's also a rotating series of exhibitions, showcasing local and international artists, and the foremost photographers of the 20th century.
Getting the right help
With so many good and great options, you have the opportunity to target which condo in which area is best for you. However, the availability also means that it's difficult to pinpoint perfect matches. There's also the fact if you're from out of state or even if you already live in Florida, you may not be familiar with the state regulations and the requirements that will directly impact you. To make your investment or homebuying journey clearer and smoother, partner with real estate professionals who'll help you narrow your search and make it much easier to land the condo on Longboat Key that's just right for you.
Get in touch with the top Longboat Key Realtors
The high-powered, four-person real estate team of Ian Addy and Gail Wittig are ready to help you explore condos and homes for sale throughout Longboat Key. With decades of combined real estate experience, The Addy Wittig Team will ensure your real estate journey in the Sarasota area is optimal and even a pleasure.
Get in touch today to book a private real estate consultation. You can contact us by phone at 941.387.0100 or send us an email.